Сам курс доступен в Coursera, ниже мои заметки из курса.
Introduction
More or less business average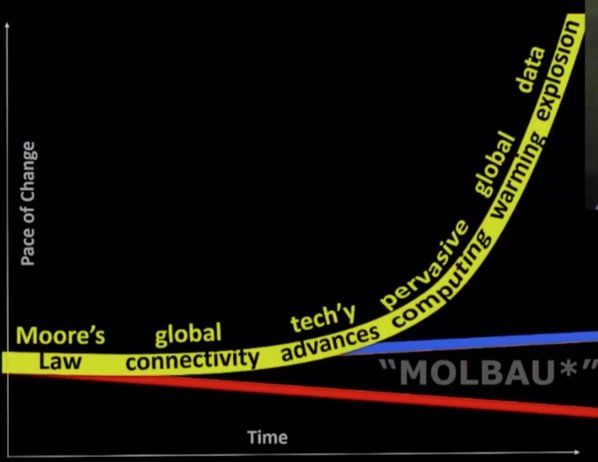 Where does innovation come from?

R&D Facility

Insight (from leader)

Partnership (colleagues, partners, clients)

Vision (Steve Jobs example)

Asking questions

Through iterations

Work of other
How to drive an innovation
What product
Whom to sell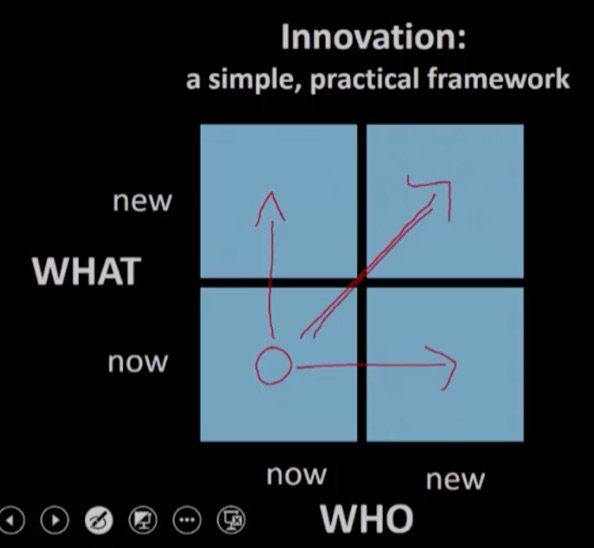 Innovation Portfolio Matrix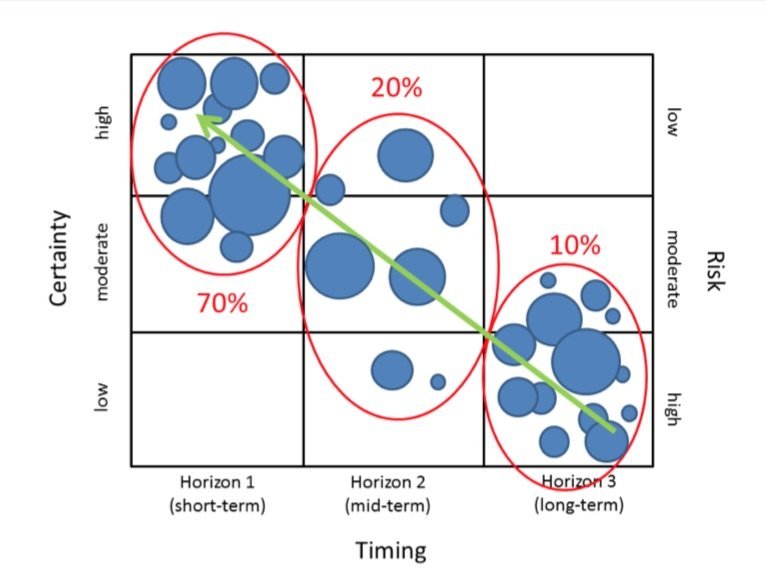 Definitions
Innovation
Developing a new solution or way of doing smthg that drives differentiation and creates measurable value
Enterpreneurship
Pursuing opportunities - often but not always based on innovation - without regard to the resources directly and currently controlled
Innovation/Invetion/Ideas/Enterpreneurship
Some of enterpreneurship contains all attributes

Why innovation so important?
100+ "Unicorns"
Fortune 500 firm
1920: 67 years, today: 15 years
Drives growth in companies & economies
Attracts & retains talent
If you don't innovate, your competitors will
Customer Interviews
Principles
People are lying! (people tell us what we want to hear, if you ask the wrong questions)

Talk about their life instead of your idea

Ask about specifics in the past

Listen!

Don't sell!
Right direction (Learn to Launch)
Define
Opprortunity

Vision & Values

Team
Learn
Customer Discovery

Prototypes

Product/Market fit
Launch
Products/MVP

Biz/Financial Models

Organization & Legal
Accelerate
Resources: $$ & People

Go-to-Market

Scale Operations
Entrepreneurial Sets
Toolset
Customer Lifecycle

Persona

Fictional character who represents your target stakeholder

name

picture

demographics

Business Models

How you make your money with your business?
Skillset
Customer Discovery

Design Thinking & Rapid Prototyping

Pricing


Presentation
Mindset
10 Traits of Entrepreneur

Bias to Action

Welcome & Create Change

Focus on What Really Matters

Optimistic

Resourceful

Failure-Savvy

Resilient

Intensely Curious

Know your Customer

Ask for forgiveness not permissions

An entrepreneur is anyone who takes on a task without having all of the resources necessary to accomplish that task available at the outset.

Success rate


SNAFU

situation normal: all fucked up

Failure value cycle

How to recognize failure ASAP

Where failure is not an option? - select this option

What is your portfolio of failure zones?

Failure is simply an opportunity to begin again. This time, more intelligently. © Henry Ford

Pivoting

"Your screw up became my startup…"

"and my start-up will screw up before it growts up!"
Market & Customers
Pivoting must be
As you develop an innovative business, now how you can fine tune the market you adress

How are you going to address that particular market?

Plan an iterations
Startup
Temporary organization designed to search for a repeatable & scalable business model © Steve Blank, 2012
Goal of a Startup

TGDIYCMN (Total global domination in your chosen market niche)

Advantage

Speed of learning
Flexibility in strategy
Speed of execution

Common Mistakes

Full Scale Roll Out

Webvan example
4.8$ on IPO, but sales only 350k$, and 50$ Mio losses

China Syndrome (only for some customers)
Selling to everyone everywhere

Breeze
You have to be focus to

Selling to one customer
1. Market Segmentation
What to do?

Brainstorming with sticky notes win all potential markets

Get market data

Communicate with other responsible person to understand your market

To find the market segment

Market segment definition

Customers within the market all buy similar products

Customers have similar sales cycle and expects products to provide value in similar ways, so sales process is scalable

There is "word of mouth" between customers in the market, so they can serve as compelling and high-value references for each other in maker
2. TAM-SAM-SOM
What is it?

TAM = Total Addressable Market

How big at the end can become

SAM = Serviceable Addressable Market

Limited for the next few years

SOM = Serviceable Obtainable Market

What your market share can be?

Realistic

Per segmentation you have different percent of TAM>SAM>SOM
3. Multi-criteria
Different criteria - Column

Segment

Criteria

Size of market

customers

Access to decision making unit (DMU)

Innovation speed market

Your love for the market

MVP potential

Customer Pain?

Innovation curve


Innovators (2%)
Early adopters (14%)
Early/Late majority (34%)
Laggards (16%)

Beachhead Market

Your first entry into the market (TGDIYCMN)

Small enough to become a significant player

Big enough to generate some cash